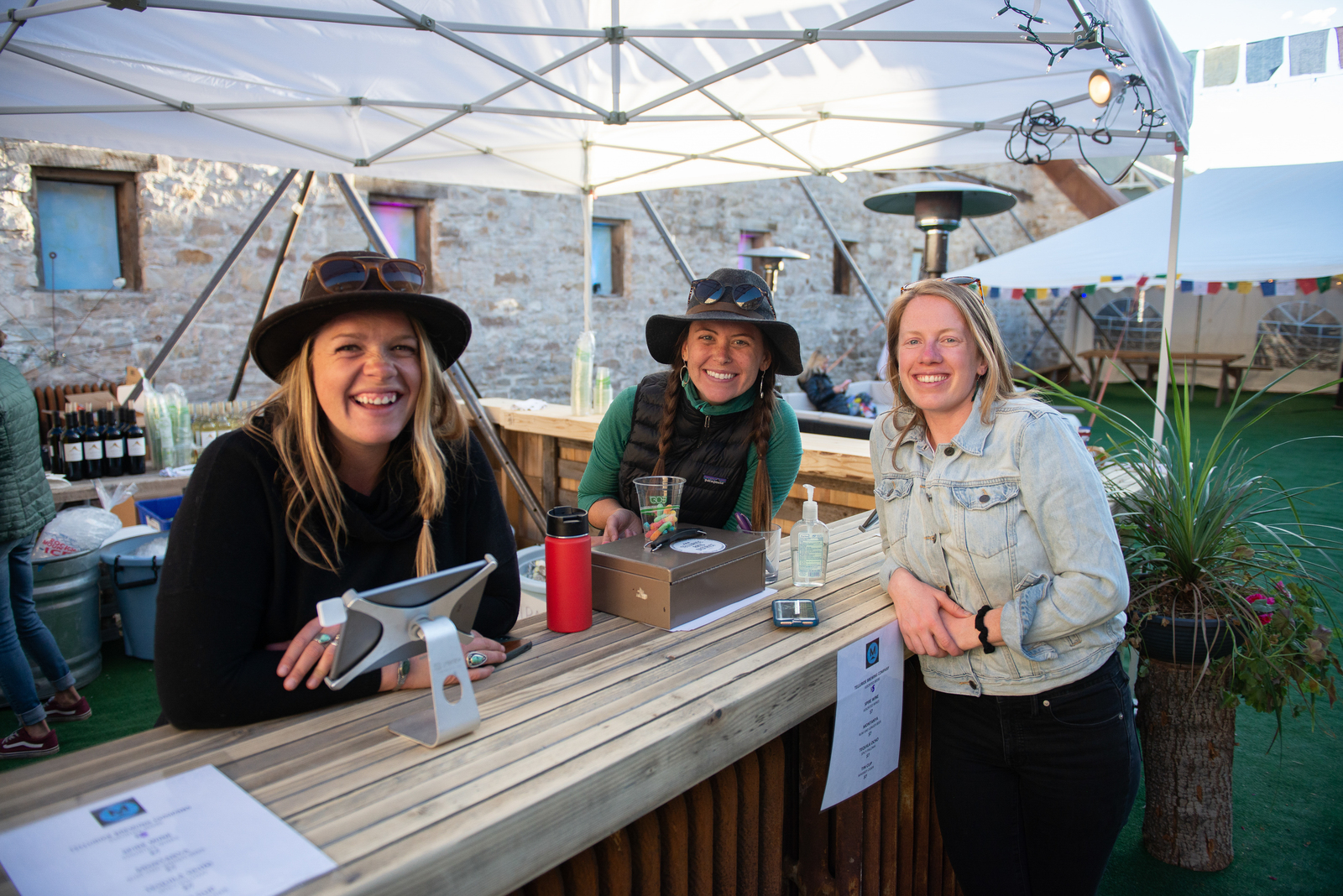 Volunteer for Mountainfilm
2024 VOLUNTEER APPLICATIONS OPEN DECEMBER 1.
How does Mountainfilm transform the tiny alpine hamlet of Telluride, Colorado into a world-class documentary film festival? Volunteers! For each festival, we rely on the support of over 250 amazing volunteers.
To volunteer for Mountainfilm, you must be at least 18 years of age and available to volunteer for approx. 20* hours during the festival. In exchange for your time, you will earn a full festival Volunteer pass (a $400 value) and the ability to reserve program tickets.

*If you would like to volunteer but are unable to give 20 hours, please reach out separately to our Volunteer Coordinator. Under some circumstances, we may consider accepting volunteers with reduced hours (minimum 10) in exchange for a restricted volunteer pass that offers free admittance into four-ticketed festival programs.
To get started, read our Volunteer Policies and FAQ below then submit the online volunteer application. Once you are approved, our volunteer coordinator will reach out to you to confirm your availability. Your volunteer schedule will be confirmed in early May. (See below for information on volunteer schedules.)
---
Mountainfilm's Volunteer Policies
In order to provide a positive, safe, and inclusive experience for all participants, volunteers must agree to the following: 
Volunteer during the Mountainfilm festival weekend;

The majority of volunteer shifts are scheduled between Friday, May 24-Monday, May 27, 2024. Some volunteer shifts will begin before and/or after the festival;

Volunteers must arrange their own travel and lodging (If traveling from out of town);
Pay the $5 non-refundable pass fee and have a valid credit card on file in Eventive;
Respect the safety, boundaries, health, and well-being of all participants; 
Comply with all instructions given by Mountainfilm staff and cooperate with staff, volunteers, and festival attendees; 
Adhere to Mountainfilm's Credit Card, Cancellation and Communications policies outlined below;
Complete all assigned shifts in the appropriate attire with a great attitude; 
Enjoy the festival!
---
Cancellation Policy
We hope you won't have to cancel your volunteer application, but if you must, you have until May 1, 2024, to let us know. Please send your request to cancel in writing by emailing the volunteer coordinator. 
If you cancel after our deadline on May 1, you will be charged a Cancellation Fee. Please read our Credit Card Policy below regarding this policy.
---
Volunteer Credit Card Policy
To volunteer, you must pay the non-refundable $5 pass fee and have a valid credit card on file in your Eventive account, our pass management software. 
Credit cards act as a security measure and will only be charged if the following circumstances occur – we hope they don't!: 
You cancel after the cancellation deadline on May 1. If you cancel after the deadline, a $100 Cancellation Fee will be applied to your credit card. This fee is not intended as a penalty, but is a reasonable estimation of the time and effort that is required to make alternative arrangements resulting from your late cancellation.
You do not fulfill all of your assigned volunteer responsibilities. If you do not complete your volunteer duties, your credit card will be charged the full amount of your festival pass (value $400). 
Emergency cancellations will be dealt with on a case-by-case basis. Notify the volunteer coordinator of your emergency as soon as you are able. 
---
Volunteer Communication Policy
While volunteering with Mountainfilm (before, during, and after volunteer events), you may receive confidential information about other volunteers, staff, and participants, including but not limited to names, phone numbers, and other personal or contact information. As a volunteer, you must comply with the following times: 
Do not use personal or contact information you receive while volunteering except as needed to successfully fulfill your responsibilities. 
Do not share personal information you receive from Mountainfilm or its staff, partners, or volunteers with other individuals, groups, or organizations.
If you do not comply with these policies, we will cancel your pass, volunteer shifts and you will not be invited to volunteer for Mountainfilm in the future.
---
Volunteer FAQs
We hope to answer many of your questions below and also recommend checking out the Festival page for general information about attending Mountainfilm.