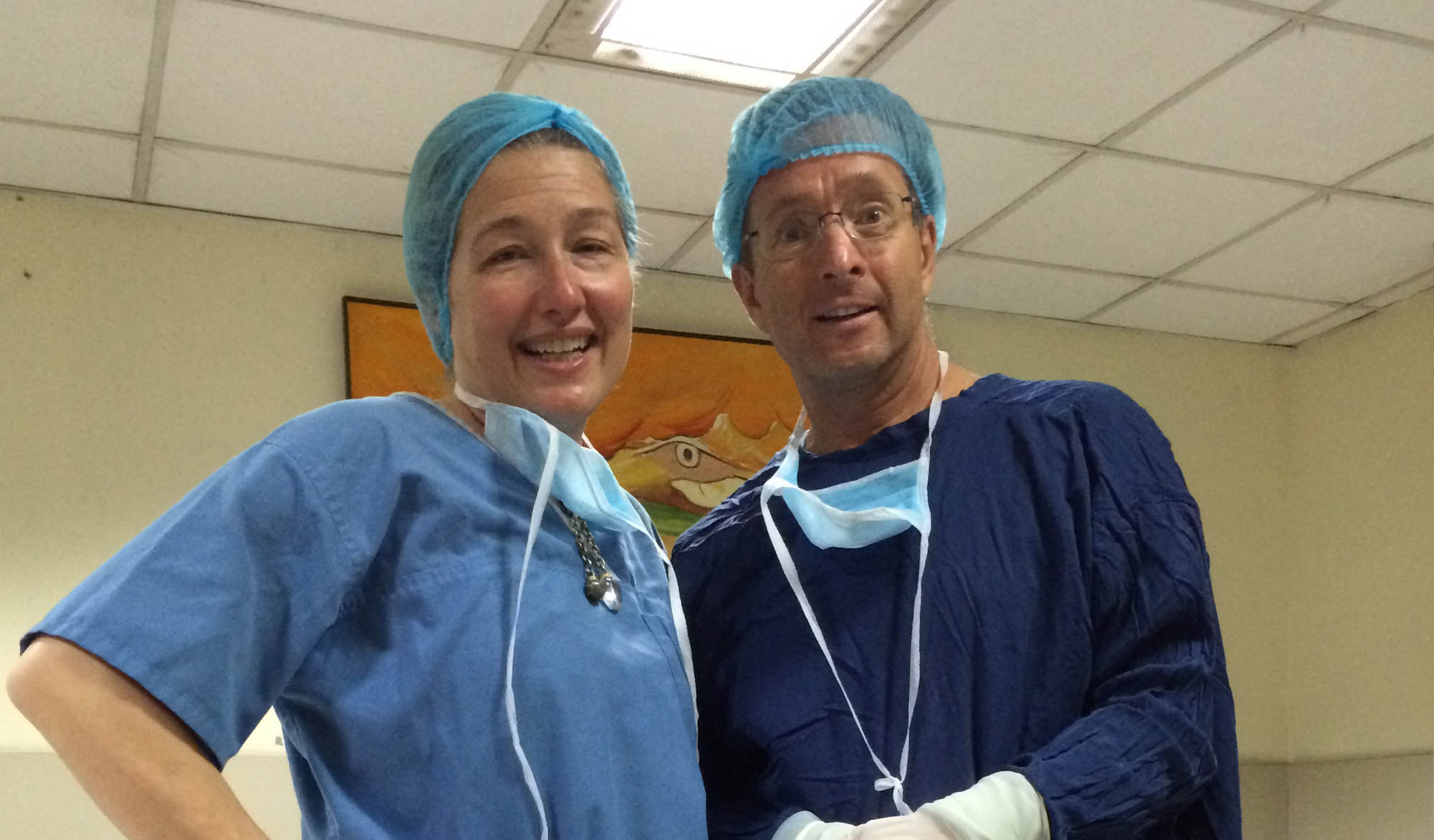 March 12, 2015
Nepal, Part 1: 40 hours to Kathmandu
Part of the tour included watching Geoff perform a corneal transplant operation, which was somehow both gruesome and beautiful.
Mountainfilm Festival Director David Holbrooke is spending two weeks in Nepal with dZi Foundation, our new nonprofit partner, which works with some of the most remote villages in Nepal to improve quality of life and reduce poverty and disease.
When my wife, Sarah, and I headed off to Kathmandu, we knew we were in for some arduous travel. The Kathmandu airport had been closed for several days because a Turkish Air jet had landed hard on the runway and broken a wing. Nepal doesn't have the heavy equipment to remove the aircraft from its only runway, which left more than 40,000 travelers stranded in Nepal (and another 40,000 waiting to arrive). Our first flight challenge, however, was unexpected: The Montrose Airport had enormously long check-in and security lines.*
Luckily, the Kathmandu Airport was back in business by the time we arrived, receiving 120 flights on its first day after reopening. We landed there without delay — and without luggage — after more than 40 hours of travel (Montrose-Denver-Dulles-Dubai-Kathmandu).
Even without fresh togs, at least we are in Nepal, a country that is the subject of so many Mountainfilm documentaries that it seems familiar. We're heading out for 10 days to walk around isolated regions of Nepal with dZi founder Jim Nowak; his Nepal Country Director Ben Ayers, who spoke at #mfilm14 about Sherpas; Eric Ming of The Telluride Watch and Kevin Fritz, son of Marmot's VP of Marketing, Tom Fritz. This should be a remarkable adventure because we'll go to the southeast section of the country, which receives zero tourist traffic and is way off the popular western trekking routes.
Before we took off, we had a little time in Kathmandu. As Mountainfilm luck would have it, renowned eye surgeon Geoff Tabin, a regular guest at the festival, happened to be in town. He was working at the Tilganga Institute of Ophthalmology, which has pioneered remarkable efforts to end blindness in Nepal and other developing countries. Geoff, who also has climbed the Seven Summits, gave us a tour of the clinic, showing how this center is one of the leading eye hospitals in the world that attracts doctors from around the globe. Part of the tour included watching Geoff perform a corneal transplant operation, which was somehow both gruesome and beautiful.
It's a stellar start to what should be a tremendous trip, and it'll be even more tremendous if all our bags show up before we head into the field tomorrow morning.
*Traveler's tip: Don't fly out of Montrose on a Saturday during ski season, and if you do, get to the airport early. Really early.
This is the first in a series of two blogs. Read "Nepal, Part 2: On the Ground and Off the Grid with dZi."