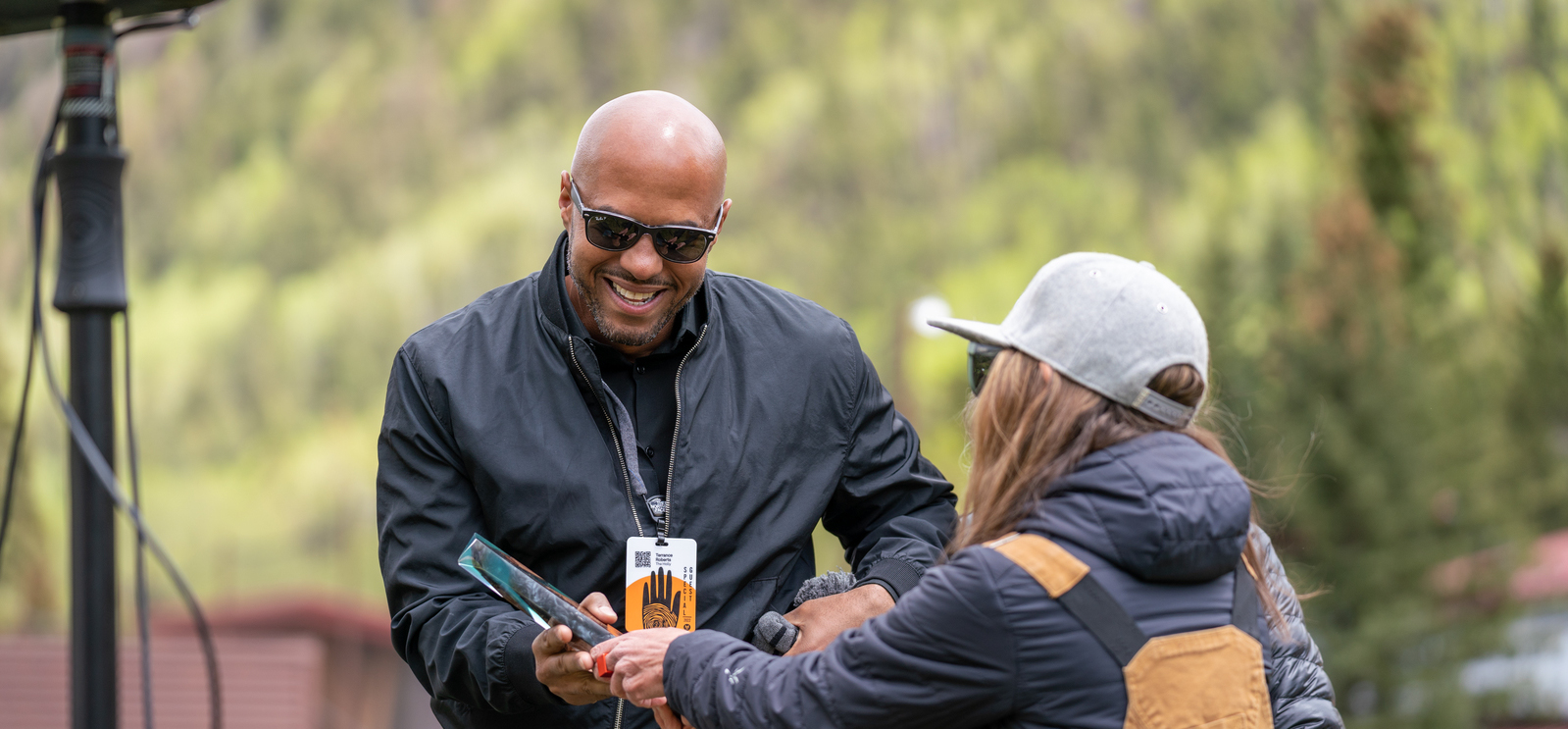 June 2, 2022
MOUNTAINFILM WRAPS 44TH EDITION, ANNOUNCES AWARD WINNERS THE HOLLY, BAD AXE, AND MORE
Telluride, Colorado (June 2, 2022) – For the first time since 2019, in-person audiences at Mountainfilm's 44th festival descended into Telluride's box canyon this past Memorial weekend to screen films that spanned the spectrum of environmentalism, social justice, adventure and celebrating indomitable spirit to unbelievable triumphs of the human condition. On Monday, May 30, Mountainfilm awarded $19,500 in cash prizes to 7 films from 7 juried film categories. These winners include: The Holly for Audience Choice, Bad Axe for Best Documentary Feature, Meantime for Best Short Film, Pasang: In the Shadow of Everest for Best Adventure Film, The Territory for the Moving Mountains category, Refuge for Student Choice, and The Neighborhood Storyteller for the Women in Film category.
Best Documentary Feature jury included: Oscar, Peabody and Emmy Award-winning producer Sheila Nevins; Co-Founder and Co-President of Roadside Attractions' Eric d'Arbeloff (Super Size Me, Manchester by the Sea, The Peanut Butter Falcon); and Oscar-nominated, Emmy and Peabody award-winning producer Kathryn Everett. Jury members for Best Short Documentary include Mountainfilm Best Short Film winner and Oscar-nominated filmmaker Skye Fitzgerald, known for 50 Feet from Syria (Mountainfilm 2016), Lifeboat (Mountainfilm 2018) and Hunger Ward (Mountainfilm 2021); Firelight Media Fellow, Film Independent Documentary Lab Fellow and director of Duty Free (Mountainfilm 2021), Sian-Pierre Regis; and Senior Vice President of Member Relations and Awards at the Academy of Motion Picture Arts and Sciences, Tom Oyer. Judges for the Charlie Fowler Best Adventure Film include writer, filmmaker and climber Pete Takeda; Shelma Jun, filmmaker and Founder of Flash Foxy; and Joanna Croston, Director of the Banff Centre Mountain Film and Book Festival and World Tour
"We were blown away by the incredible films this year and the important stories and themes that were shared. It was heartwarming and impactful to be able to again experience the festival face-to-face. The energy of the Mountainfilm community coming together was truly palpable," said Festival Director Suzan Beraza.
As pass holders, jury members and students cast their votes, award winners were announced at the festival's Closing Picnic and Awards Ceremony in Telluride's Town Park. The award winners also took home a one-of-a-kind cairn sculpture by renowned artist R. Nelson Parrish. This year's winners include: 
Audience Choice ($5,000): The Holly directed by Julian Rubinstein. In the end, it was Julian Rubenstein's The Holly that won the audience over and took home the Audience Choice Award. The world premiere depicts a high-profile shooting case in Denver's Holly neighborhood when anti-gang activist Terrance Roberts finds himself on trial for a shooting that occurred at a peace rally. Over the course of seven years, Rubenstein patiently unpacks the intricate layers of Roberts himself, the community, media misinformation and contentious history of criminal injustices that fed gang violence in Denver. 
Best Documentary Feature ($5,000): Bad Axe directed by David Siev. Bad Axe portrays the real-time experience of Siev's Michigan-based, Asian American family fighting to keep their restaurant and American dream alive in the face of a pandemic, Neo-Nazis and general scars from the Cambodian Killing Fields in Trump territory of rural America. Upon receiving the award, Siev's parents and film subjects, Rachel and Chun Siev, regarded their experience at Mountainfilm as one in which they had "never felt so welcome before. Everyone is so friendly!" The jury stated, "The story of one Michigan family's resilience and love for one another, as well as their community of Bad Axe, Michigan, during the COVID-19 pandemic. Filmmaker David Siev expertly manages to transcend the personal and the political to shine a light on the best of what America can be." 
Best Short Film ($1,000): Meantime directed by Michael T. Workman. Playing as part of the Original Shorts program, Meantime is the personal story of the relationship between the filmmaker and his aging father who suffers a debilitating stroke. From the Best Short jury: "Often in our field, there is an emphasis on energy, on creating tension and holding an audience's interest through the speed and pacing of the edit. Today we'd like to recognize a different kind of film — one that is deliberate and explores the deep and abiding bond between parent and child with patience and love. Unfolding in the first person, the filmmaker explores the nature of loss and an evolving parental relationship with evocative camera work and great affection. We applaud a film that feels like a cinematic love letter."
Charlie Fowler Best Adventure Film ($2,500): Pasang: In the Shadow of Everest directed by Nancy Svendsen. The jury stated, "the film chronicles an unsung hero, Pasang Lhamu Sherpa's tragic and inspiring journey to become the first Nepali woman to summit Chomolungma in 1993. The story is brilliantly captured through rarely seen archival footage and the words of Nepali friends and relatives. Her determined pursuit to climb the mountain plays out within the context of her nation's quest for democracy and political upheaval and is a hitherto untold tale that fits today's emerging trend of Indigenous reclamation of the Himalaya. This combined with Pasang's spirit and determination makes this the perfect winner for the Charlie Fowler Best Adventure award."
 
Moving Mountains ($2,500): The Territory directed by Alex Pritz. In true Mountainfilm style, this award uniquely benefits not only the brilliant filmmakers of The Territory, but also the film's associated non-profit, Kanindé, the Entho-environmental Defense Association. The Brazilian-based non-profit develops various activities to strengthen Indigenous organizations; including studies and research, diagnosis and management plans, surveillance and inspection, support for production, training of Indigenous and non-Indigenous people in legislation, forest management, monitoring of public policies, among many other things. 
Student Choice ($1,000): Refuge directed by Din Blankenship and Erin Bernhardt. In a collaboration between Mountainfilm and Telluride Academy, high school students from the immersive Mountainfilm for Students program select the film they think will best inspire their generation. Refuge, a story about fear and love in the American South and the journey of a white nationalist hate group finds healing from the people he once hated is, according to the student jurors, "a film that left us with a sense of hope that our deeply divided nation can be healed – a Muslim heart doctor and his town of refugees."
Women in Film ($2,500): The Neighborhood Storyteller directed by Alejandra Alcala. In this world premiere, young girls at a refugee camp in Jordan learn the pleasure of storytelling and reading from Asmaa, a Syrian mother dedicated to empowering her firstborn daughter and teenage girls through her read-aloud project. Her work educated these young girls and exposed them to the possibilities of building a future of opportunities she never had. Sponsors of this award, Riccarda de Eccher and Bill Goldston, found the film to be "a heartfelt tribute to women in film. We loved how the film featured women on both sides of the camera, telling a heartfelt story about a refugee teaching young girls how to read."
Last but not least, the Guest Director medallion was presented to Jeff Orlowski-Yang in recognition of his groundbreaking work and mission of using film to create stories for a better future and continuing to forge conversations that lead to action and meaningful change. The festival presented two of Orlowski-Yang's previous films, Chasing Ice and Chasing Coral, as part of a retrospective of his work and its impact on climate change. He also presented during the festival with his award-winning production team, Exposure Labs, about the importance of story amid the climate crisis.
"We were overjoyed by the enthusiastic turnout this year," said Senior Programmer and Festival Manager Lucy Lerner. "The energy around the films, town talks, speakers and workshops was electric, and we are honored to have been able to host so many amazing creative folks at Mountainfilm this year. We are thrilled to be able to support the talented award winners and can't wait to start thinking about 2023!"
*Due to film distribution restrictions, a small number of films will not be available for online viewing.