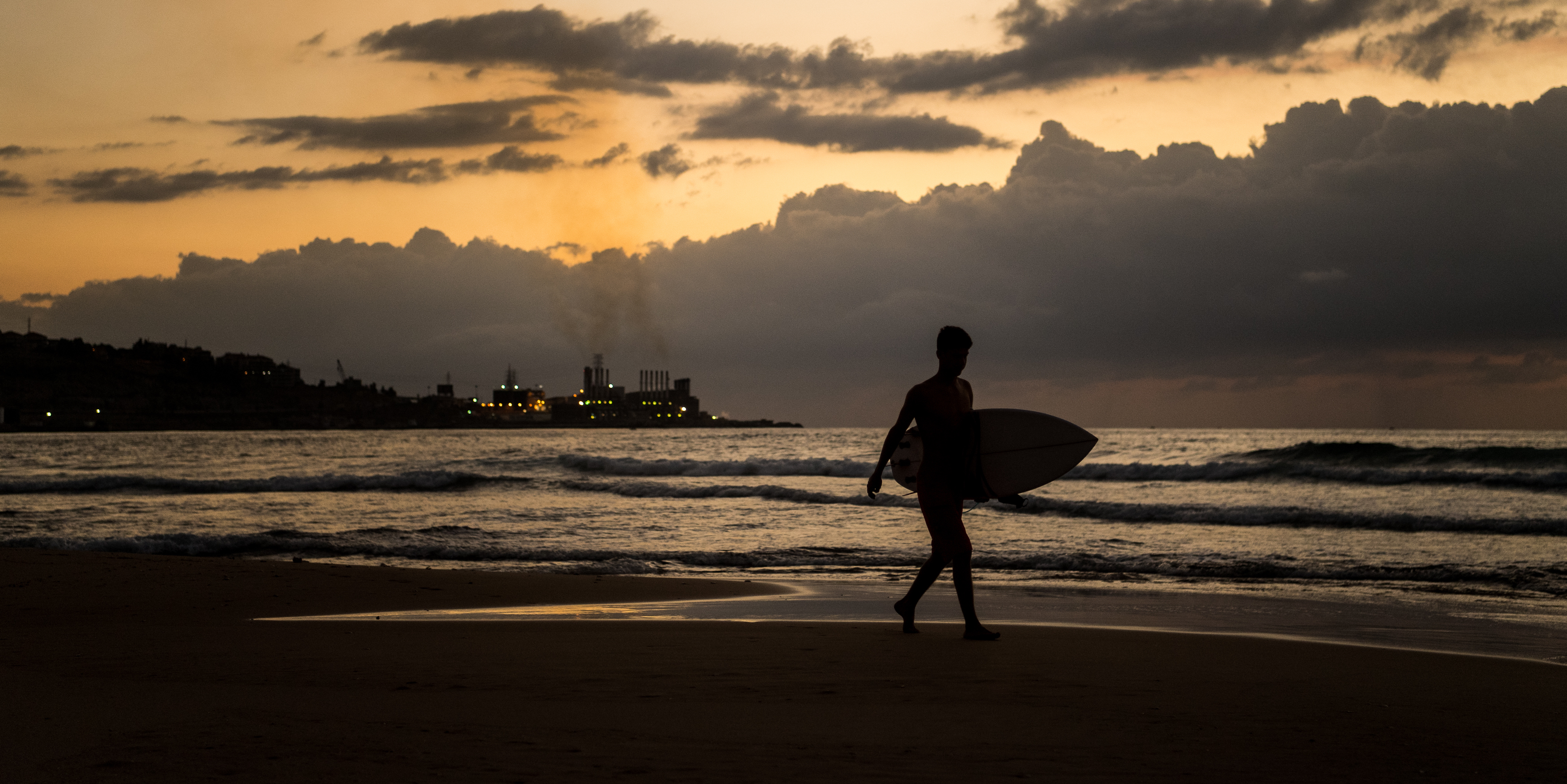 October 8, 2018
Mountainfilm Announces 2018 Commitment Grant Winners
Mountainfilm gives a total of $31,000 to 11 projects
A virtual reality project that aims to disarm hatred. Young beekeepers in Detroit transforming the city one hive at a time. The story of empowered youth plaintiffs taking on the US government. And a young refugee living in Lebanon hoping to become the first Syrian professional surfer.
These are some of the compelling, fascinating and deeply important stories being told by Mountainfilm's 2018 Commitment Grant winners. The organization is thrilled to announce this year's recipients, 11 projects that tackle topics from environmental advocacy to justice inequity to conceptions of time and even a love story that involves insects.
"The pool of applicants was bigger than ever in 2018 — professional, innovative, filled with stories that need to be told — which meant the judges had a really tough job," Program Manager Lucy Lerner said. "While it was extremely difficult, the judges ultimately selected a batch of terrific projects that are full of potential. We're so excited to support them."
As part of the nonprofit's commitment to helping tell stories that matter, Mountainfilm awards Commitment Grants each fall to filmmakers, photographers, artists and adventurers whose projects are intended to inspire audiences to create a better world.
"Filmmaker support is a strategic organizational priority for Mountainfilm," said Mountainfilm Executive Director Sage Martin. "Supporting and advancing filmmakers is an important way for the festival to give back to the community that provides us with these remarkable projects".
The Commitment Grant initiative, which launched in 2010, has supported projects ranging from art installations, to feature documentaries and photographic explorations. Many recipients have debuted their projects at Mountainfilm, and grantees make up some of the festival's most memorable screenings. Past winners include Lifeboat, When Lambs Become Lions, The Last Honey Hunter, Uranium Drive-In, Frame by Frame, Mending the Line, Albatross and The Crash Reel.

Mountainfilm's 2018 Commitment Grant winners are:
Romain Vakilitabar, The New American ($5,000 + 15" MacBook Pro)
The best way to disarm hatred, according to psychologists and social scientists, is intimate contact with the "enemy." The New American is an ambitious virtual reality attempt to create understanding by putting this theory into practice – intimately placing audiences face-to-face with those who have been systematically oppressed and been the targets of hatred in America.
Palmer Morse, Rachel Weinberg & Matthew Mikkelsen, Stay Bumble ($5,000 + 15" MacBook Pro)
Palmer Morse (director of Being Hear (Mountainfilm 2017)) and his team bring us a story from East Detroit where young African-American beekeepers, Tim Paule and Nicole Lindsey, are transforming the city one hive at a time. By working to convert several of the hundreds of thousands of vacant housing lots in their city into buzzing bee farms, Tim and Nicole are bringing life back to their community.
Lisa Molomot, Missing in Brooks County ($5,000)
Missing in Brooks County is a portrait of Falfurrias, Texas, home to more migrant deaths than anywhere else in the country. A local rancher leading a vigilante group seeks to catch migrants in the act, while a humanitarian leader tries to save their lives with Border Patrol agents called on to do both. Everyone is confronting the practical reality of U.S. immigration policy in Trump's America.
Allison Otto, The Love Bugs ($2,500 + 15" MacBook Pro)
Multiple-year Commitment Grant winner and Mountainfilm veteran Allison Otto (Keeper of the Mountains (Mountainfilm 2013), Property (Mountainfilm 2016), Felix (Mountainfilm 2018)) brings us this story of Lois and Charlie O'Brien, two renowned entomologists who quietly amassed the world's largest private collection of insects over the course of 60 years. It's an entomological game-changer containing more than 1,000 undiscovered species. Now, as they face their twilight years, they seek to pass on their knowledge--with a little help from their 1.25 million insects.
Myles Estey, RICO: A Modern Gangster Tale ($2,500)
RICO: A Modern Gangster Tale exposes how oil corporations are using anti-mafia laws to take down environmental advocates who are critical of their profit-driven destruction. The story is revealed through hard-to-believe plot twists and turns. Myles Estey, director of Cartel Land (Mountainfilm 2015), gives us the tale of deception, scheming and bending rules defining the struggle between a handful of wealthy executives defending their bottom-line and human rights lawyers, NGOs and indigenous people now branded as organized criminals.
Christi Cooper-Kuhn, YOUTH V. GOV ($2,500)
Christi Cooper-Kuhn directs YOUTH v GOV, the story of America's youth taking on the world's most powerful government. Twenty-one plaintiffs lead a groundbreaking lawsuit against the U.S. government, asserting that it has willfully acted over four decades to create our climate crisis, thus endangering their constitutional rights to life, liberty and property.
Jennifer Redfearn, Reentry ($2,500)
In a midwestern state, battered by both the opioid crisis and surging incarceration rates, three young mothers prepare to return from prison to their communities and families. As they struggle to mend relationships with their children after years of separation, their stories expose how poverty, drugs and incarceration are destroying family ties, and how women working together can help each other rebuild their lives. Jennifer Redfearn is the Oscar-nominated director of Sun Come Up (Mountainfilm 2011).
Tyler Wilkinson-Ray, Yalla ($2,000)
Tyler Wilkinson-Ray, the filmmaker behind 2.5 Million (Mountainfilm 2018) and Vasu Sojitra: Out on a Limb (Mountainfilm 2015), brings us 17-year-old Ali Kassem who wants to be a professional surfer. Unlike most aspiring surfers, Ali grew up in Aleppo, Syria and was forced to flee to Lebanon by the civil war. Upon seeing the ocean for the first time, Ali built a surfboard from trash and years later is now an up-and-coming surfer with dreams of becoming Syria's first pro.
Darren Durlach & David Larson, R.A.W. ($2,000+ 15" MacBook Pro)
Richard White went from being homeless and abandoned on the streets of Baltimore to becoming the principal tubist of the New Mexico Philharmonic. Now he's on a journey to piece together the story of his past as a way to reconcile his present and show the kids in his old neighborhood that they too can have a bright future. Darren Durlach and David Larson, directors of Throw (Mountainfilm 2016), bring us this compelling tale.
Wylie Overstreet & Alex Gorosh, To Scale: Time ($1,000 + 15" MacBook Pro)
Wylie Overstreet and Alex Gorosh, the filmmakers behind Mountainfilm favorites To Scale: The Solar System (Mountainfilm 2016) and A New View of the Moon (Mountainfilm 2018) tell the story of a dry lakebed in California, a group of friends attempting to create a complete model of Time — an accurate illustration of the universe's evolution, and our place within it.
Lie Feng, The Climbing Grocer (winner of the $1000 American Alpine Club Grant)
A short film about the unexpected twists and turns in the life of a small town grocer who encounters a group of strange people called "climbers," giving him new hopes and ambitions that are drastically different from those of his fellow villagers.