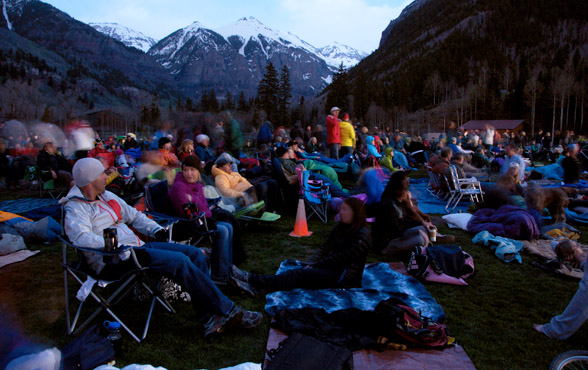 May 21, 2012
Base Camp: Free Outdoor Screenings
Mountainfilm in Telluride opened Base Camp Outdoor Theatre — sponsored by Horny Toad — last year. It was a rousing success with large audiences showing up in Telluride Town Park for the free films.
This year, Base Camp will have extended hours and more films. We'll kick off the first of six nights on Wednesday, May 23, with Dogtown and Z-Boys, a film from the festival's vault by Stacey Peralta that documents the birth of skateboarding.
After that showing from Mountainfilm's 2002 archives, we'll continue with nightly screenings from the current 2012 program through Monday evening, May 28. Chasing Ice will show on Thursday. This documentary about photographer James Balog chronicles the collapse of glaciers around the world and won an Excellence in Cinematography Award at Sundance in February.
Bring warm clothes, picnics, blankets and low-profile folding chairs to the park to enjoy these free screenings under the stars. To learn more, check out the Base Camp schedule.